Tom Carroll Outer Reef Mx 10'0"
Tom Carroll Outer Reef MX 10'0" Silver Rail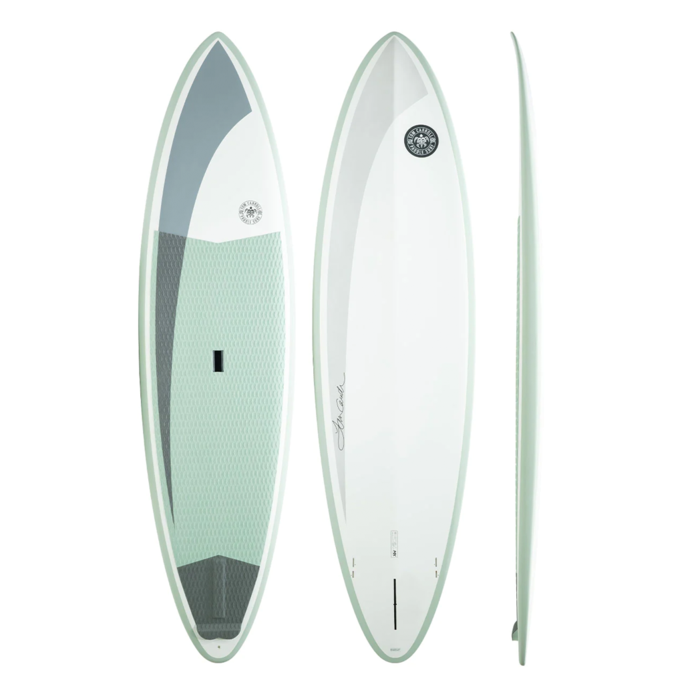 Tom Carroll Outer Reef MX 10'0" - Silver Rail
The Tom Carroll Paddle Surf (TCPS) Outer Reef MX Stand Up Paddleboard (SUP) draws from the advanced hydrodynamic design features of the original Loose Leaf and Long Grain models, applied to a more accessible and affordable range equally suited to flat-water and the surf.
OVERVIEW: Built in our very durable, well weighted MX construction, the Outer Reef SUP offers additional volume all round, and sizes to cover the discerning recreational SUP paddler in the beginner-to-intermediate class.
DESIGN: Born from a focus on speed and paddle power to ride the outer reefs off Oahu's North Shore with ease. The complex, but highly effective bottom contours that feature across TCPS SUP's have been softened on the Outer Reef to provide efficient water flow over a large surface area, and offer high volume stability without sacrificing flow or paddle efficiency.
CONTOURS: The deep double concave displacement hull allows free flowing water movement through the underside of the nose while also reducing slapping. Subtle concave through the centre leads into a pronounced spiral vee out the tail which provides ample turning capabilities and prevents rail-to-rail sticking, especially in uneven, choppy conditions and when driving through unpredictable wave zones. A slight bevel on the underside of the rail enhances trim sensitivity on the wave face.
ROCKER: A more relaxed rocker on the Outer Reef offers exceptional flow on flat-water and entry speed onto waves, while still encouraging smooth turning arcs from the sweet spot position. The rocker has also been designed to allow freedom of movement from the back turning zone right up to the nose.
FINS: 2 + 1 set up comes with FCS II GL side bites which add manoeuvrability and control when riding waves, and a custom 9″ TCPS single fin that's big enough to offer an efficient flat-water stroke rate, while still allowing for easy turning. Tom prefers to set the centre fin forward in the box to keep the tail free and loose.
PERFORMANCE: Available in 4 sizes, the TCPS Outer Reef utilises technical design elements to increase flat-water paddling speed and enhance wave riding response. Fast, stable, yet sensitive to the rider, the Outer Reef SUP is considered a user-friendly model that offers a positive and connected feel to the ocean, be it on the open water or sliding down the face of a wave.
SPECIFICATIONS:
NOTE: Rider weight is based on board volume and intermediate rider skill level
| LENGTH | WIDTH | THICK | VOLUME | SUPPLIED FINS | APPROX WEIGHT RANGE |
| --- | --- | --- | --- | --- | --- |
| 10'0'' | 32'' | 4 1/2'' | 152 ltr | 9" Center w/ FCSII Performer sides | 70kg or less |
| 10'6'' | 32'' | 4 1/2'' | 165 ltr | 9" Center w/ FCSII Performer sides | 85kg or less |
| 11'0'' | 32 1/2'' | 4 3/4'' | 185 ltr | 9" Center w/ FCSII Performer sides | 90kg or less |
| 11'6'' | 33'' | 4 3/4'' | 196 ltr | 9" Center w/ FCSII Performer sides | 95kg or less |