SIC ATLANTIS 14'0" X 24"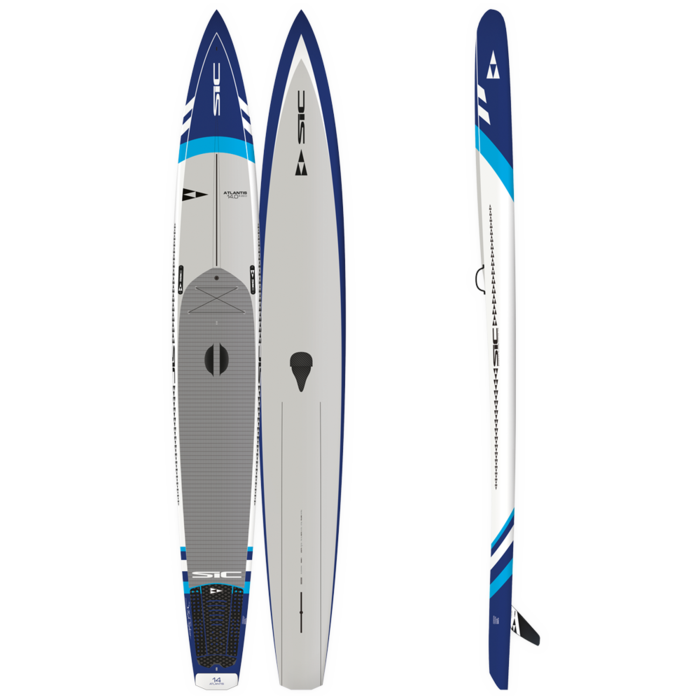 SIC ATLANTIS 14'0" x 24"
Paddlers looking to race in choppy to moderate or heavy conditions
Paddlers wanting to tour
Summary
The Atlantis is Built for rough water, moderate to heavy conditions.
Product Specifications
Complete Dimensions14'0'' x 24.0'' x 290 L

Weight27.1 lbs / 12.3 kg

Max Riders Weight220 lbs / 100 kg
The all NEW ATLANTIS is the latest addition to the SIC's race category boards, built for rough water, moderate to heavy downwind, and swell conditions.
The ATLANTIS is designed with a deep cockpit and high rail line for secondary stability and mitigates water flow into the cockpit. It has a diamond-shaped tail giving the boards excellent rail to rail stability without losing its agility. This board can handle a big ocean swell and surf nicely. The step channel was added to the bottom for directional tracking like its counterpart, the RS. This board features a single venturi drain integrated with the EZ-Grab handle to clear water that flows into the cockpit quickly.
KEY FEATURES & BENEFITS
STEP CHANNEL BOTTOM - Provides directional tracking
DUGOUT COCKPIT - Provides lower centre of gravity for better stability
NEW – VENTURI DRAINAGE DUCT - For rapid evacuation of water from cockpit
BUNGEE TIE-DOWNS ON THE NOSE - Allows for gear storage
EZ-GRAB CARRY HANDLE - For easy transport and less fatigue
CROSS-CUT EVA DECK PAD - For traction and grip
LEASH PLUG - To connect a leash for safety
GORE-TEXTM BREATHER VENT - Allows board to breathe and prevent delamination
ACTION CAMERA MOUNT ON THE NOSE - To capture your adventures on the water
TECHNICAL SPECS
Code107204

ModelAtlantis

ShaperMark Raaphorst

Length14'0'' / 426.7 cm

Width24.0'' / 61 cm

Volume290 L

Thickness9.2'' / 23.4 cm

Weight27.1 lbs / 12.3 kg

Max Riders Weight220 lbs / 100 kg

One Foot Off Nose11.2'' / 28.5 cm

One Foot Off Tail14.8'' / 37.6 cm

Handle TypeSIC EZ GRAB

Finbox Configuration Set UpSingle US box

Supplied fin(s)Weedless 8.3"

Product TypeRigid composite
TechnologySuper-Fly

Country of ManufactureVietnam