Naish Mad Dog 8'11 - Stand Up Paddle Boards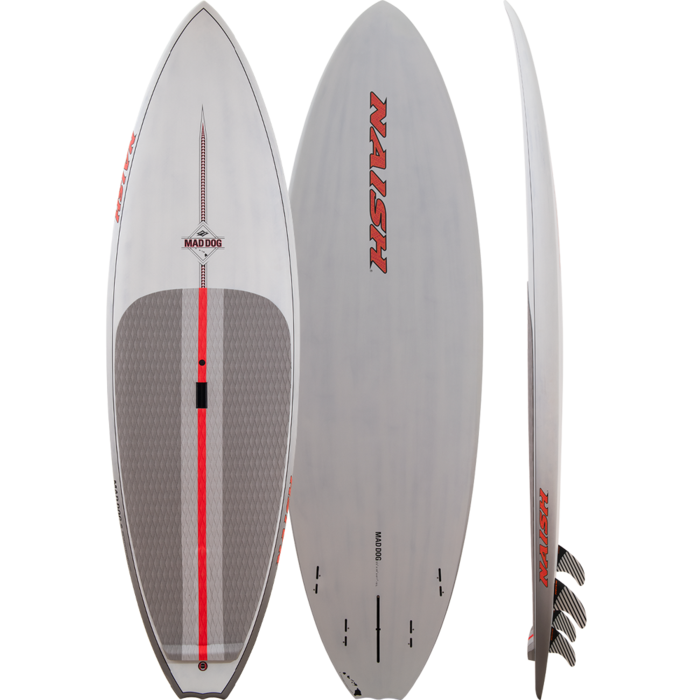 Naish Mad Dog X32 8'11"
Performance Wave
With maximum speed and turning ability, the Mad Dog is made for aggressive surfers who want to rip and push the limits. The Mad Dog offers next-level performance without sacrificing stability. With just the right rocker, it rides like a surfboard allowing hard turns with speed and power. This rocker is forgiving and requires less input to create speed, which is a huge performance benefit, especially in less powerful surf. Delivered with a quad fin set, the GTW's feature a 4+1 fin setup, giving riders the option to adapt the board to their riding style and conditions.
FEATURES
Quad Fin Setup ((2) FCS 4.75 Front Fins + (2) FCS 4.0 Back Fins)

Ledge Handle

Grooved & Embossed EVA Pad

FCS II System
CONSTRUCTION
CNC Cut EPS Cell Core

S-Glass Wood Sandwich Bottom Construction

S-Glass PVC Sandwich Deck Construction with Bamboo in the Stance Area

Matte Finish Deck, Rail and Bottom

Diamond Grooved, Micro Dot Embossed EVA Pad
Mad Dog 7'6" is ideal for riders up to 170 lbs/77 kg
Mad Dog 7'10" is ideal for riders up to 180 lbs/82 kg
Mad Dog 8'1" is ideal for riders up to 190 lbs/86 kg
Mad Dog 8'6" is ideal for riders up to 200 lbs/90 kg
Mad Dog 8'11" is ideal for riders up to 210 lbs/95 kg
| | | | | |
| --- | --- | --- | --- | --- |
| Model/Size | Length | Width | Thickness | Volume |
| Mad Dog 7'6" | 7'6"/228.6 cm | 27 1/2"/70 cm | 4/18"/10.5 cm | 85 L |
| Mad Dog 7'10" | 7'10"/238.8 cm | 29"/73.7 cm | 4 1/4"/10.8 cm | 101 L |
| Mad Dog 8'1" | 8'1"/246.4 cm | 29"/73.7 cm | 4 1/2"/11.4 cm | 111 L |
| Mad Dog 8'6" | 8'6"/259.1 cm | 29"/73.7 cm | 4 3/4"/12.1 cm | 121 L |
| Mad Dog 8'11" | 8'11"/272.1 cm | 29"/73.7 cm | 4 3/4"/12.1 cm | 130 L |