Agenda Carbon + Eva Foil Board - 6'2"
AGENDA CARBON + EVA FOIL BOARD - 6'2"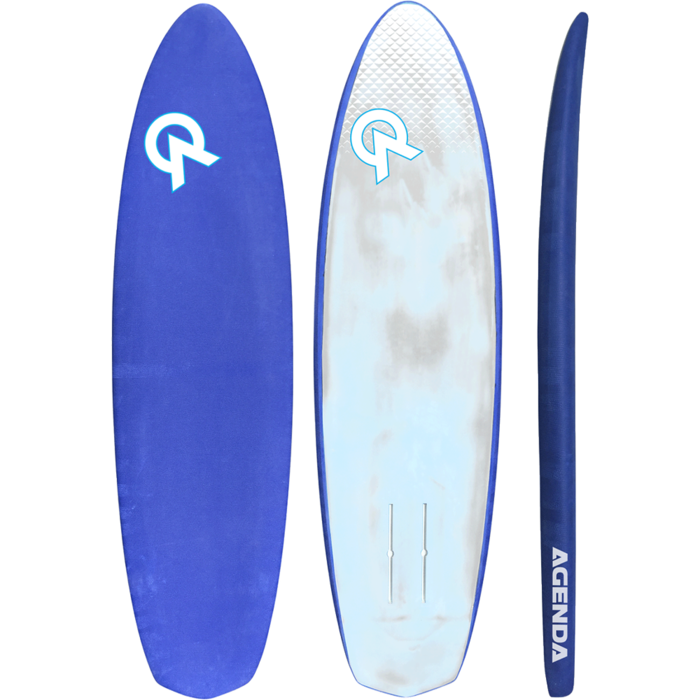 AGENDA CARBON + EVA FOIL BOARD
PRONE OR TOW. SURF TO WAKE. THIS IS THE ULTIMATE LEARN TO FOIL BOARD
Under a safety-conscious skin this is a top of the line carbon foil board wrapped with an impact-resistant, Eva soft skin.
Performance without the drama.
We've all seen the nasty foil accidents or damaged boards.
Play it safe with a board that can be passed around friends and family, thrown in the boat, used in the surf or used to surf the wake.
ROCKER AND BASE CURVES
The bottom starts with a subtle V through the nose that provides minimal stick during touchdowns. The rails are hard and slope away, allowing quick unrestricted lift from the water. A flat belly means the board glides fast when prone paddling and the foil sits dead flat against the board.
CONSTRUCTION
CORE: Stringerless 30kg EPS Core,
Full 6oz Carbon wrapped lamination top and bottom.
Oversize HD PVC Insets support the Futures branded strong box.
Fin Box has fibreglass patches over the top for added strength.
Deck has 2 Layers of Carbon and Eva Softtop.
VITAL STATISTICS
Board weight 4.5kg
5'6 x 19 1/2 x @43L Wake / Prone
6'2 x 19 1/2 x @46L Learn to Prone
COMES WITH
Board only.
*Foodstraps optional extra.
Agenda Carbon + Eva Foil Board - 6'2" Reviews
Write Review
---
There are not yet any reviews on this product.