FCS Toledo 5'0" Soft Top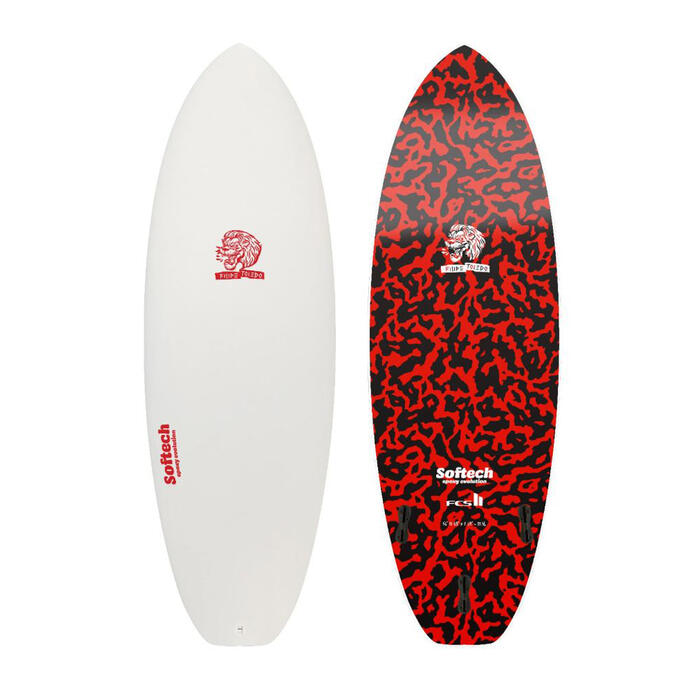 FCS TOLEDO SOFT TOP
Wide in the hips and tail with a deep concave for extra lift in mushy conditions, this epoxy softboard is designed for performance short board surfing.
Volume: 5'0": 26.6L | 5'6": 32.3L | 6'0": 37.8L
ABOUT THE TOLEDO SIGNATURE
From everyday conditions to perfect peelers, the Toledo Signature lets you easily transfer your hardboard skills to a softboard without feeling a loss in performance. The shortboard shape will suit kids learning to turn and experienced surfers wanting a small wave alternative.
The perfect all-rounder for beachies, reef and fun in between the flags. Suitable for grommets and intermediate to advanced surfers.
Epoxy core with single stringer

Vacuum glassed with 6OZ. cloth

FCS II Fin Boxes

High density PE foam deck

Ultra-thin soft HDPE slick bottom
Size: 5'0" / 5'6" / 6'0"
Dimensions: 5'0" x 20 ?" x 2 ½" / 5'6" x 21 ?" x 2 ?" / 6'0" x 21 ?" x 2 ¾"
Core: Epoxy Core
Stringer: Single Stringer
Fin Setup: Tri (x3 FCS II Fin Setup)
Fin System: FCS II
Volume: 5'0": 26.6L | 5'6": 32.3L | 6'0": 37.8L
+ Leash Plug installed
+ FCS II Softflex Fins included
THE FCS II FIN SYSTEM
With the FCS II system, the need for any screws or tool to secure the fins has been eliminated. Simply insert the front of the fin into the plug and use downward pressure to lock the fin in place.
Easily insert & remove the fins based on the wave conditions or the rider's ability. Don't upgrade your board -just change your fins.