Red Paddle Co 9'8" Ride (2022)
RED PADDLE CO 9'8" RIDE (2022)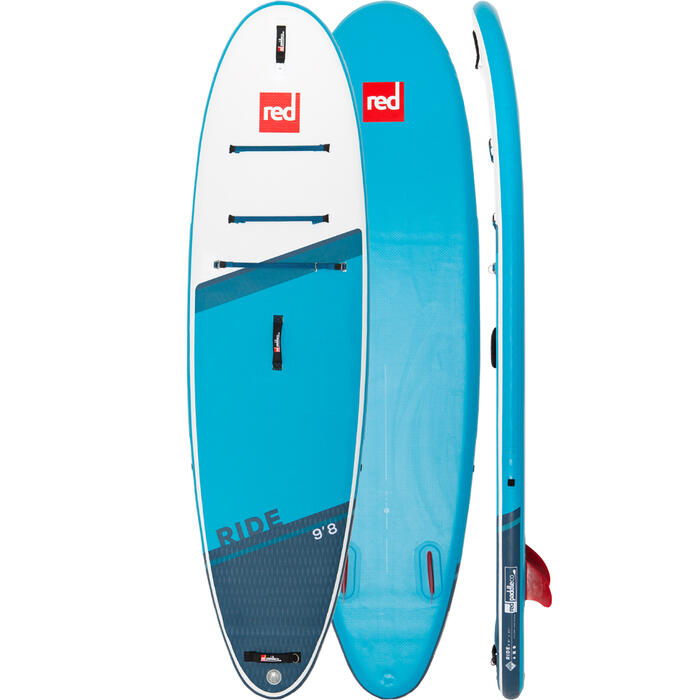 9'8″ RIDE INFLATABLE PADDLE BOARD
The go-to board for smaller riders who want all-round performance in all types of conditions.
MAX RIDER WEIGHT: 95kgs
RIDER STYLE: All Round
MIN EXPERIENCE: Beginner
If you're looking for a versatile board that will perform in all conditions, then look no further than the 9'8'' Ride from Red Paddle Co. A popular inflatable SUP with smaller riders, this board is designed for all-round use – whether you enjoy the thrill of paddling in the surf, or the tranquillity of calm lakes.
As the smallest of the Ride family, it's well-suited to lighter riders under 70kg/155lbs. However, that doesn't mean that heavier riders can't have fun on it too. At 9'8'', it makes a great surf shape and can be used in shoulder to head-height waves.
The secret to this board's versatility is its dimensions: 787mm/31" wide and 100mm/3.93" thick, which makes it stable yet manoeuvrable.
The Red Paddle Co iconic design has been updated for a more streamlined look and feel. The extended Red embossed deck pad now reaches right down to the tail, wraps closer to the rails, and, offers superior comfort and grip. The diamond-cut rear provides extra stability for performing step back turns, or for riding in bigger waves.
Twin ifins – All boards in the Ride range are now integrated with two super durable, flexible ifins, making the boards straighter and faster to paddle than a three fin set-up. The ifins also provide increased agility and performance in the surf and make the board easier to pack down into its bag.
Ergonomic tubular handles on all boards to give a cushioned, comfy grip when carrying your board.
Included with all of Red Paddle Co's SUP packages, the newly refined industry-leading Titan II pump takes you from neatly-packed to fully-inflated in half the time, with half the effort.
The liberating thing about these inflatable boards is how easy they are to travel with. Whether you're driving to the coast, or flying across the world, all boards deflate and pack away neatly into the purpose-designed All Terrain backpack, so you can easily transport it to your next location.
NEW! ADJUSTABLE CARGO SYSTEM
A new and improved cargo system has one adjustable bungee strap and two flat elastic straps. A twin d-ring locking system allows easy adjustment and release and the small loop is ideal for water bottle storage.
NEW! ATB TRANSFORMER BAG
Introducing a total redesign of the all terrain backpack that offers a bagless carry system. This skeleton system means you can access more remote waterways without the need for a bulky bag and just take the straps and your pump. When using the bag, large all terrain wheels make handling rugged terrain a breeze and considered anthropometric design is able to be fully customised to your height so you can take maximum care of your body while under load. Large exterior pockets can fit any quick to grab essentials and velcro interior pocket means your paddle blade is safe and secure. The interior material has a stylish Red repeater pattern and it's water resistance will minimise any intrusive damp. Additional internal storage for small items and keeping your service kit on hand.
WHAT'S INCLUDED
2022 Board (with 5 year warranty)
Backpack
Titan II Pump
Fins
Mini Repair Kit
Free NZ shipping
If you are after the full package which includes a 3pc Paddle and Leash, click here.