Red Paddle Co Kiddy Alloy Paddle 3Pc
RED PADDLE CO KIDDY ALLOY PADDLE 3PC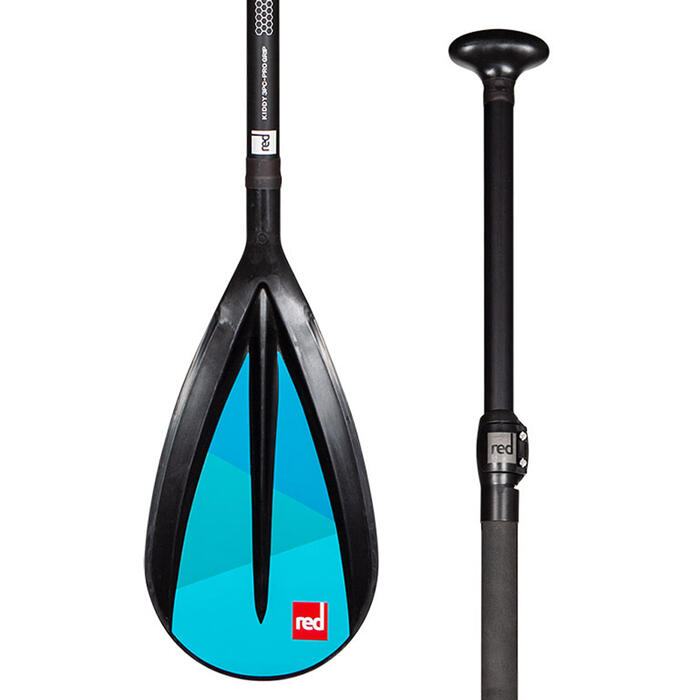 Paddle length (shaft and blade combined): adjustable from 130cm to 170cm (4'3" to 5'7"). Paddler height: for touring, it is recommended that your paddle is around 23 to 25cm (9 to 10 inches) taller than your height. So, ideally, this paddle is best suited to paddlers ranging from 105cm to 147cm tall (approx. 3'5" to 5').
It has a smaller blade as kids don't yet have the power needed for a full-size adult blade. This reduces the impact on their bodies, meaning they can stay on the water longer.
A reduced blade size also reduces the weight of the paddle, meaning it is easier for them to use. The 3-piece paddle weighs under a kilogram (910 grams).
The ergonomically designed t-grip is smaller to fit a younger person's hand compared to Red Paddle Co's adult paddles.
Adjustment: Cam Lock system between the top and mid section, push-pin between the mid section and base. The tried and tested cam lock system enables quick paddle length adjustment with unrivalled grip, minimising any movement in the top section of the paddle. With a notch on the cam, it makes lining up the handle incredibly easy.
The main paddle shaft is covered in EVA foam (Ethylene Vinyl Acetate foam*) making it more comfortable to use, while improving grip.
Red Paddle Co Kiddy Alloy Paddle 3Pc Reviews
Write Review
---
There are not yet any reviews on this product.