SIC RS 14'0" X 26" SF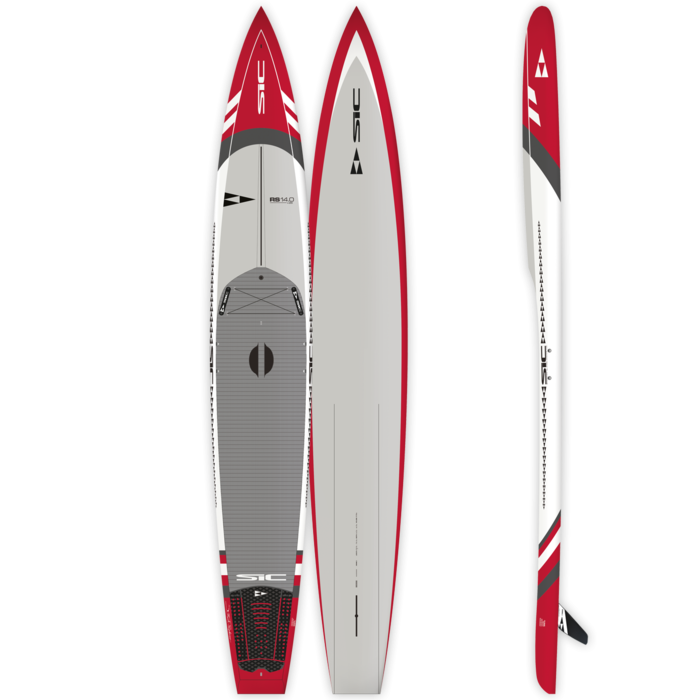 RS 14'0'' X 26.0''
The RS has become a favorite amongst paddlers of nearly all levels and garnered the prestigious SUP Connect "Race Board of The Year" award in 2018, 2019, and 2020.
The RS has now been fine-tuned and made even faster in flat / all-water conditions and is substantially more durable. The refinements are slight, but the improvement to top-end speed is significant. The nose has been pulled in slightly from the wide point giving it even better into-the-wind performance, acceleration, and top-end speed. The volume from the rails has been stacked back onto the top deck and shaped into a higher center peak to sheer water and pop up more quickly when the nose punches through chop.
KEY FEATURES & BENEFITS
STEP CHANNEL BOTTOM - For directional tracking
DROPPED COCKPIT - For lower center of gravity giving greater stability and power to the paddle
COCKPIT DRAINAGE HOLES - To evacuate water in the cockpit and keep the deck dry
8.3" WEEDLESS 3K CARBON FIN - For excellent tracking and glide
2X RACE HANDLES - For race starts and ease getting back on to the board
EZ-GRAB CARRY HANDLE - For easy transport and less fatigue
CROSS-CUT EVA DECK PAD - For traction and grip
BUNGEE TIE-DOWNS - For waterbottle and gear
TAIL KICK PAD - Assist with buoy turns
LEASH PLUG - To connect a leash for safety
GORE-TEXTM BREATHER VENT - Allows board to breathe and prevent delamination
ACTION CAMERA MOUNT ON THE NOSE - To capture your adventures on the water
TECHNICAL SPECS
Code: 103343
Model: RS
Shaper: Mark Raaphorst
Length: 14'0'' / 426 cm
Width: 26.0'' / 66 cm
Volume: 315 L
Thickness: 9'' / 22.9 cm
Weight: 27.1 lbs / 12.3 kg
Max Riders Weight: 240 lbs / 110 kg
One Foot Off Nose: 10.9'' / 27.7 cm
One Foot Off Tail: 16.1'' / 41 cm
Handle Type: SIC EZ GRAB
Finbox Configuration Set Up: Single US box
Supplied fin(s): Weedless 8.3"
Product Type: Rigid composite
Technology: Super-Fly
Country of Manufacture: Vietnam