Sic Manta Surf Foil - 6'0"
SIC MANTA SURF FOIL - 6'0"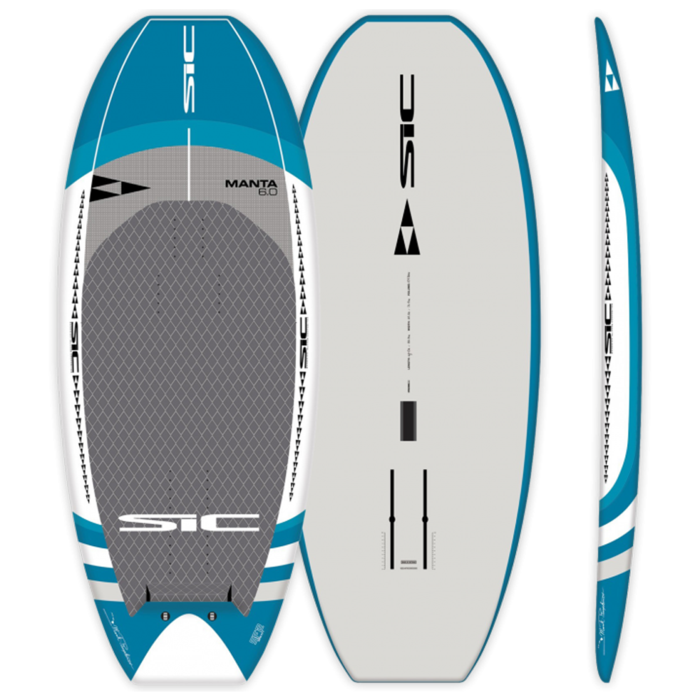 MANTA FOIL BOARD - 6'0"
While primarily a surf foilboard, the Manta is also a lot of fun on shorter downwind runs. However, this board is designed to catch waves and swells that are not ideal for traditional surfing. In Hawaii, we have trade winds that can make for messy wave conditions, but you don't have to miss a day on the water with the Manta foil board. This board pops up sweetly onto its foil, glides smoothly in little swell, and carves up a storm. Call the Manta your 'daily driver.' This board is stable and has enough length, volume, and glide to lift you onto the foil in the big blue, yet, it has a low enough swing weight that you can also drop-in, kick out, and pump your board back out to the lineup for another ride.
BEVELED RAILS ON THE BOTTOM
Mitigate catching on touch downs and turning
BLUNTED NOSE
Lower swing weight gives the board a lighter feel when turning
CONTOURED DECK
Improve bracing and better control
DIAMOND GROOVE TEXTURED EVA PAD
For traction and grip
KICK PAD
Assist with turning
FOOT STRAP INSERTS
Stay connected to the board when you need it
BOTTOM ERGO-UNDERCUT CARRY HANDLE
For ease with carrying
DOUBLE LEASH PLUG
To connect a leash for safety
DOUBLE SLOTTED FIN BOX TRACKS (9CM SPACING) FOR PLATE MOUNT SYSTEM
For secure mounting of foil
GORE-TEXTM BREATHER VENT
Allows board to breathe and prevent delamination